Welcome to the McCloud Hotel & Sage Restaurant
Historic Hospitality & Luxury Lodging on the Slope of Mount Shasta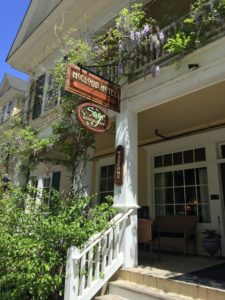 The McCloud Hotel sits on the slope of one of nature's jewels, majestic Mount Shasta. The world famous fly fishing stream, the McCloud River, with its three waterfalls, is just a few miles away. Built in 1916 by the McCloud River Lumber Company to house the single men working in the lumber mill, the Hotel has been lovingly restored to meet the needs of today's discerning traveler whether passing through or staying over to enjoy the many things to see and explore nearby. Our Mount Shasta lodging provides the visitor the convenience and privacy of a hotel while assuring guests of historic hospitality and a hearty breakfast to begin the day.
Our spacious lobby is a wonderful place to relax in any season. From its original registration desk with mail-cubbies to the warm patina of aged pine, the lobby beckons you to relax in cool comfort on sunny summer days or before the roaring fire when winter settles in. Cozy up in an overstuffed leather chair or sofa while you plan tomorrow's activities whether it is a day on the River, downhill or cross country skiing, spiritual reflection on Mt. Shasta, or just a leisurely stroll to the shops and galleries in historic downtown McCloud.
Colorful gardens surround the Hotel with secluded nooks for privacy and open areas for gatherings and weddings. Our fine dining restaurant is open to the public year round, open 7 nights, Memorial Day – Labor Day and Wednesday – Sunday evenings throughout the rest of the year. Outdoor dining on the wisteria covered terrace overlooking the gardens when weather permits. With a variety of room types and configurations, our Mount Shasta lodging will meet the needs of most any traveler. Each room has at least one queen or king bed and private bath, several offer one king and one twin, and our largest rooms also have two person jetted or soaking tubs and spacious sitting areas.
In addition to the premier accommodations of our Mount Shasta lodging, our hotel also offers gourmet dining and an event venue which is ideal for weddings, meetings and parties.