Culinary Overview
Seasonal Ingredients Locally Sourced

From intimate dinners in Sage to casual gatherings and hand-crafted cocktails in the Axe & Rose Public House, each culinary experience at the McCloud Hotel is paired with a unique atmosphere. Coupled with its illustrious history and picturesque mountain setting, dining at the McCloud Hotel blends all the necessary elements for a gathering to be remembered. A complimentary breakfast is included with your overnight stay at the McCloud Hotel.
Our Culinary Teams are dedicated to sourcing and preparing fresh ingredients from local, natural, sustainable & organic producers whenever possible.
Relaxed yet refined, Axe & Rose Public House is a cozy space with a full bar. Like Sage, the Pub continues a commitment to environmental stewardship with locally sourced, organic, or sustainable items whenever possible. The Axe & Rose Public House offers a unique Mt Shasta dining experience, full bar, and traditional pub-style menu.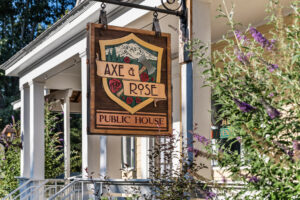 Once the workforce cafeteria for the old lumber mill and later a dance hall, the building provides craftsmanship and details largely preserved in its original condition from the 1930s. The atmosphere is a casual neighborhood gathering spot that meets an alpine mountain retreat. Artisan burgers, Flatbreads, Steak, and beer-battered Fish & Chips, along with signature grilled cheese served with house-made blackberry jalapeno jam, are just some of the standouts.
Custom-made walnut live-edge tables, corrugated steel, and a wooden crate back bar with three big-screen TVs are warm and welcoming. The wi-fi is excellent.
Just 5 miles from the Ski Park and Nordic Center, the Axe & Rose has a laid-back and relaxed alpine atmosphere that makes it the perfect location to meet up with friends after a day on the slopes. Open 4 PM to 8 PM everyday of the week. Enjoy dinner with a group or a romantic dinner for two.

Order from Axe & Rose Online
Our Sage dinner experience features California Cuisine that combines time-honored cooking techniques with alluring seasonality. Grains and vegetables share the center stage on our menus, along with farm-specific beef, fowl, and fish selections. The imaginative menu infuses California, French and Mediterranean influences and changes with the season. Dishes include vegetables and herbs from th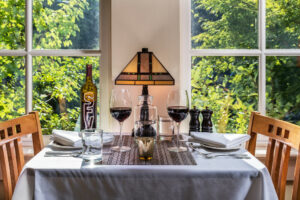 e hotel garden and locally sourced grass-fed beef, eco-sustainable fish, and vegetarian, gluten-free, and vegan options, many of which are organic and direct from small growers and farmers. The extensive wine list has been hand-selected to complement the cuisine.
The romantic Sage dining room is located off of the hotel lobby. Arts and Crafts Mission Style framed prints by Chico artist Dave Simcox adorn the walls. Outdoor dining under a pergola-covered terrace overlooking the gardens during the summer months or when weather permits. Sage Restaurant is available for private events and catering.
Wednesday through Sunday evenings with seating from 5:00 PM to close. Walk-ins welcome. Dining space is limited, so reservations are encouraged, especially in the summer.
The hotel provides a made-to-order breakfast you order from a menu or a gourmet hot and cold breakfast buffet during the high season. Served 8 – 10 AM.
Valentines Tea, Saturday, February 11, 2023, 11 am – 2 pm – Text 530-859-8111 to request a seating
Dickens Dinner, Saturday, December 17, 2022
Now taking reservations call or text 530-859-8111