Category Archives:
McCloud Hotel Bed & Breakfast News
February 12, 2016 by mccloud
Sage Restaurant is debuting their new dessert menu this Valentine's weekend and it's loaded with something for everyone. Chocolate lovers will find plenty of choices from Molten Lava Cake, Triple Chocolate Mousse and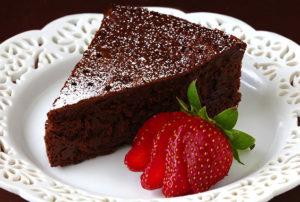 Chocolate Hazelnut Cake (gluten-free). If berries are more to your liking you can choose from Pennington Farm's Raspberry Rhubarb Pie or New Zealand Pavlova topped with Lemon Curd, Whipped Cream and Blueberries (gluten-free). If you're yearning for a cool treat to end your meal we serve real vanilla bean ice-cream with choice of Seasonal Berries, Chocolate Syrup or Bacon Crumbles and Warm Maple Syrup. Last but certainly not least is the star of the show, Three-cheese Cheesecake served with Sliced Strawberries and Fresh made Whipped Cream.